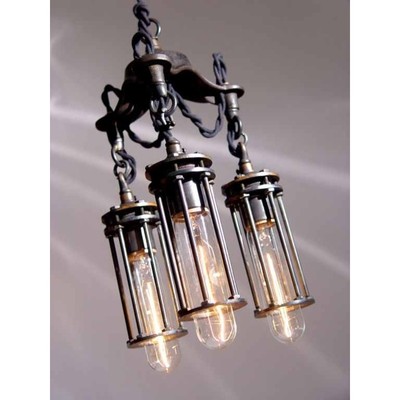 (click to view a larger version)

This is a beautiful mini chandelier. The diameter is a compact 7 inches and its 12 inches from top ring to bottom. The curve of the cast iron hub and exposed wire loops give this lamp a soft elegant feel. Its a nice contrast to the simple straight lines of the hanging tubular cages. The overall look has a bit of a gothic feel and at the same time its industrial. The patina is black with hints of rust. it takes 3 common and easy to replace tubular bulbs. The small size offers many different design options. Hung from a wall hook it makes an interesting sconce. Group a number of these lamps to make a larger complex chandelier.




Got a suggestion?
We are always looking to improve the listings in "Steampunk Daily". As you can imagine, its not a simple task to colate such a large listing of items. Whilst we have done our best to find title, description, artists/designers details, we are not perfect. If you have stumbled across this page, and happen to know the original URL, artists name / profile page, or any other information - please let us know below.


Other entries in this category: