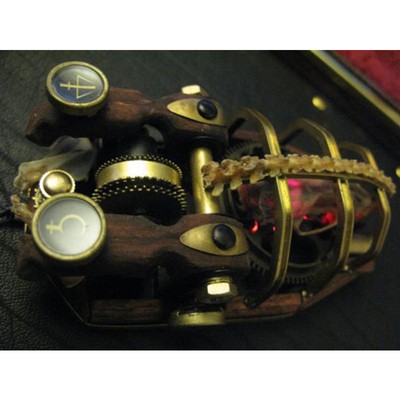 (click to view a larger version)

After completing my custom keyboard, I was constantly annoyed with seeing my ugly plastic mouse sitting next to it, so I knew a new project was inevitable. I decided to make a custom matching mouse! At first I felt this project was beyond my abilities, since I had to make actual moving and working parts, but after hours of staring at a dissembled mouse and my boxes and jars of random found objects, I developed a plan of attack. The mouse I started with was a generic 5 button mouse with scroll wheel. The two main left/right buttons were the largest obstacles for I couldnt find anything that would both look and function well. My first though was to use the two sides of a bottom jawbone of some rodent I had lying around, but they ended up being too small and fragile for constant use. I then decided I will just carve some pieces out of wood. After this, I made a mount using brass tubing and brass I-beam shaped pieces. To match the keyboard, I decided to add vintage typewriter keys to each of the finger points on the main 4 buttons of this mouse. I used Alchemy symbols to replace the original letters in the keys. These symbols may or may not have been chosen for a specific significance in this project.




Got a suggestion?
We are always looking to improve the listings in "Steampunk Daily". As you can imagine, its not a simple task to colate such a large listing of items. Whilst we have done our best to find title, description, artists/designers details, we are not perfect. If you have stumbled across this page, and happen to know the original URL, artists name / profile page, or any other information - please let us know below.


Other entries in this category: