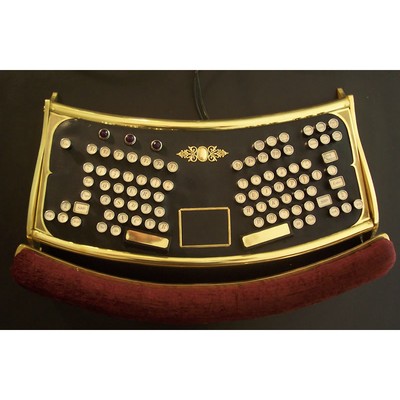 (click to view a larger version)

This keyboard began its life as a very rare IBM Model M-15 split ergonomic keyboard like the one below ...and has now been turned into the even more rare "Datamancer Ergo". This keyboard was commissioned by a female client and has some elegant, feminine design features such as violet LEDs, an acanthus-leaf pattern etched into the brass, and a soft burgundy wrist pad that is removable for cleaning. It also has a built-in "buttonless" touchpad mouse in the center (tap anywhere to left-click and drag, tap in the top-right corner to right-click). This keyboard is interesting because the typing plane is actually tipped forward rather than back. It looks odd at first, but actually makes for a very comfortable typing position.




Got a suggestion?
We are always looking to improve the listings in "Steampunk Daily". As you can imagine, its not a simple task to colate such a large listing of items. Whilst we have done our best to find title, description, artists/designers details, we are not perfect. If you have stumbled across this page, and happen to know the original URL, artists name / profile page, or any other information - please let us know below.


Other entries in this category: