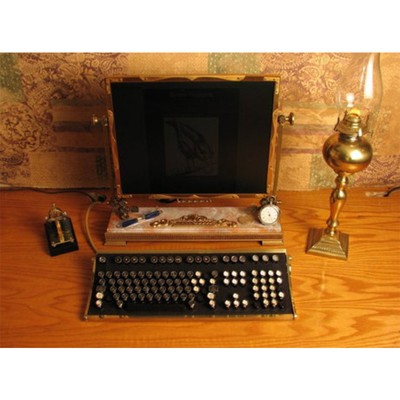 (click to view a larger version)

The Steampunk Keyboard looked terribly anachronistic sitting in front of my Dell 1907FP flat panel monitor and while I hesitated to tear open a $300 monitor that was still under warrantee, art must be served.
Inside I found that the whole thing was encased in steel sheet. I rejected the idea of re-making all of the pieces in brass and went looking for some paint that would give a nice effect. I settled on a nice gold metallic from Rustoleum with a thin coat of brown Krylon Crystal Color to give it an aged look.
ot too bad! The finish is a good match for the 19th Century gas lamp arms that I bought from Sequential Glass. It was, in fact, these arms that inspired this project. As soon as I opened the box they came in I knew instantly what I was going to do with them.




Got a suggestion?
We are always looking to improve the listings in "Steampunk Daily". As you can imagine, its not a simple task to colate such a large listing of items. Whilst we have done our best to find title, description, artists/designers details, we are not perfect. If you have stumbled across this page, and happen to know the original URL, artists name / profile page, or any other information - please let us know below.


Other entries in this category: