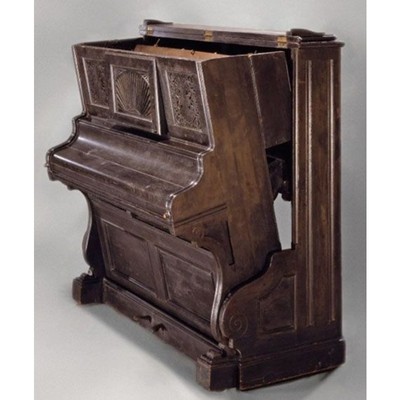 (click to view a larger version)

pianobed: "Honey, open your piano, it's time to go to bed." ....?!?!

After my very first past & past column back in August. I had some requests to address the history of the Murphy bed. Its only taken 6 months and some nudging from Grace but heres some insight into the Murphy bed!
The practice of hiding the bed became a 19th century art form and practical solution to the lack of space. The parlor was the defining room from 1850 1900 and signaled the social circle to which the family belonged. The parlors decorations illustrated the social refinement of the family and was where all the best things would have been displayed.




Got a suggestion?
We are always looking to improve the listings in "Steampunk Daily". As you can imagine, its not a simple task to colate such a large listing of items. Whilst we have done our best to find title, description, artists/designers details, we are not perfect. If you have stumbled across this page, and happen to know the original URL, artists name / profile page, or any other information - please let us know below.


Other entries in this category: