Steampunk Daily: Vehicles: Steampunk Vespa Piaggio scooter modded by greek artist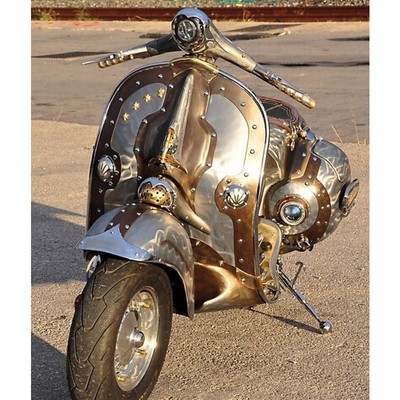 (click to view a larger version)

The iconic Vespa Piaggio scooter will never be forgotten by people who once rode it and also for the generation next who fantasize about riding one even more that driving a Hayabusa. Ok, the comparison might have got a bit blown out but still no one will ever forget those five words Vespa. Add a few more words on the paper and youll get a Steampunk Vespa that truly captures your imagination. Designed and modded by Pulsar Projects.




Got a suggestion?
We are always looking to improve the listings in "Steampunk Daily". As you can imagine, its not a simple task to colate such a large listing of items. Whilst we have done our best to find title, description, artists/designers details, we are not perfect. If you have stumbled across this page, and happen to know the original URL, artists name / profile page, or any other information - please let us know below.


Other entries in this category: