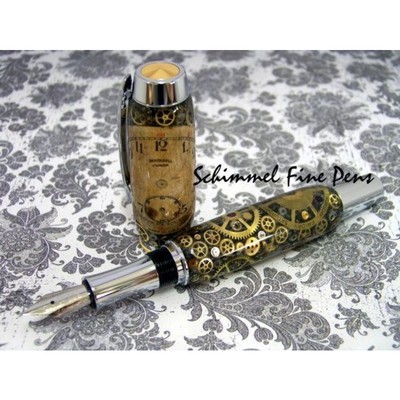 (click to view a larger version)

A steampunk pen made from watch parts is what this writing instrument is all about. Schimmel Fine Pen is a vintage watch parts steampunk pen that has successfully managed to amass the required funding goal at Kickstarter with almost a week's time still to go. Made from the finest vintage watch parts, this writing instrument is unique in itself as it has a completely different look and feel when compared to other limited edition pens that we have so far. Since the watch parts like the watch face and small little gears had to be fitted inside the pen, so they needed to be deformed into a slightly roundish, contoured shape rather than the usual flat form factor.
Got a suggestion?
We are always looking to improve the listings in "Steampunk Daily". As you can imagine, its not a simple task to colate such a large listing of items. Whilst we have done our best to find title, description, artists/designers details, we are not perfect. If you have stumbled across this page, and happen to know the original URL, artists name / profile page, or any other information - please let us know below.


Other entries in this category: