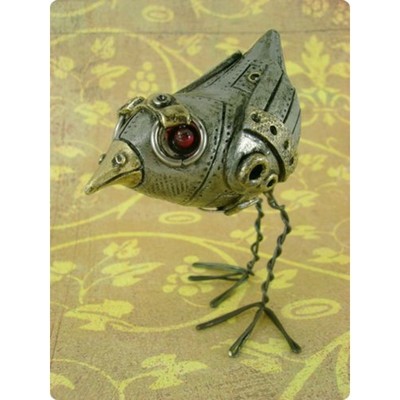 (click to view a larger version)

This is Bertram, and he is my little birdie. He can't fly or talk, but he can hop along on his slender wire legs.

Bertram is German - his name means "bright raven", and rightfully so. He certainly isn't black - he is shiny and silver!

I just so happened to be watching the Fox & The Hound on youtube and one of the characters (Dinky) happens to be a small little bird that is always looking and hopping around. I love those little chubby birds with long legs that are always hopping through the grass.

He is standing high and bent slightly forward and down as if he is listening to the ground for his meal. Hehe.

Bertram is made from polymer clay, and has been sculpted to look like metal. He has a lot of panel and rivet detailing, as well as awesome steel wings with all sorts of detail. He has one eye that is a red LED light, the other one is black and beady, and he is wearing awesome little goggles. He looks like a pilot!

He also has more detailing on his breast which the pictures do not show that well, and he is standing on two long legs made from mechanics wire.




Got a suggestion?
We are always looking to improve the listings in "Steampunk Daily". As you can imagine, its not a simple task to colate such a large listing of items. Whilst we have done our best to find title, description, artists/designers details, we are not perfect. If you have stumbled across this page, and happen to know the original URL, artists name / profile page, or any other information - please let us know below.


Other entries in this category: