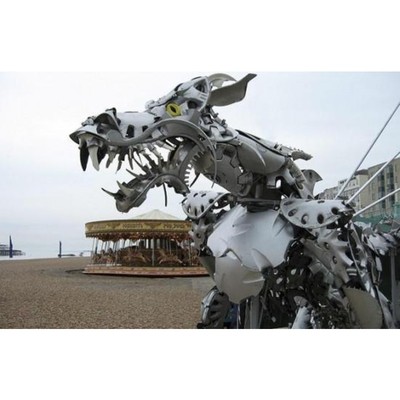 (click to view a larger version)

Ptolemy Elrington spends his time collecting hub caps lost on the streets of Britain, and transforming them into impressive-looking animal sculptures.

To prove that one persons junk is another mans treasure, 43-year-old Ptolemy Elrington has chosen to use reclaimed materials, like hub caps, as the main medium of his art. After finishing college, the Bradford-based sculptor lived close to a sharp curve where cars would often lose their hub caps. He began collecting them from the roadside ditch, and planned to turn them all into an original suit of armor, but noticing they had a marine look about them, he decided to mold them into fish.




Got a suggestion?
We are always looking to improve the listings in "Steampunk Daily". As you can imagine, its not a simple task to colate such a large listing of items. Whilst we have done our best to find title, description, artists/designers details, we are not perfect. If you have stumbled across this page, and happen to know the original URL, artists name / profile page, or any other information - please let us know below.


Other entries in this category: