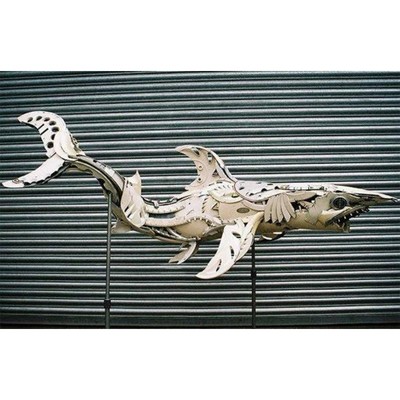 (click to view a larger version)

Ptolemy Elrington spends his time collecting hub caps lost on the streets of Britain, and transforming them into impressive-looking animal sculptures.

To prove that one persons junk is another mans treasure, 43-year-old Ptolemy Elrington has chosen to use reclaimed materials, like hub caps, as the main medium of his art. After finishing college, the Bradford-based sculptor lived close to a sharp curve where cars would often lose their hub caps. He began collecting them from the roadside ditch, and planned to turn them all into an original suit of armor, but noticing they had a marine look about them, he decided to mold them into fish.

After he gave his first sculptures to his family, as gifts, friends started coming to him asking for some hub-cap sculptures of their own. Elrington realized the business potential of his art, and now spends most of his time creating animal sculptures in his workshop. Because his work materials are practically free, he only charges customers for his time, about 75 British pounds per day. His most expensive work so far, a 10 meter tall dragon made out of 200 lost hub caps cost 3,000 pounds, but most of his works are sold for a few hundreds.

A strong supporter of recycling, Ptolemy Elrington only uses discarded materials. He never buys hubcaps, he always uses lost ones, and even the wire used to tie the hubcap pieces together comes from the junkyard.

After seven years of hub cap sculpting, Elrington says he is a fan of luxury car hub caps, from BMW or Mercedes, because they can be flexed more,and hardly ever snap




Got a suggestion?
We are always looking to improve the listings in "Steampunk Daily". As you can imagine, its not a simple task to colate such a large listing of items. Whilst we have done our best to find title, description, artists/designers details, we are not perfect. If you have stumbled across this page, and happen to know the original URL, artists name / profile page, or any other information - please let us know below.


Other entries in this category: