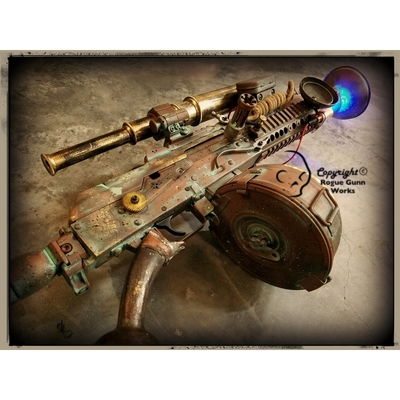 (click to view a larger version)

This gun was created by Rogue Gunn Works which is an unusual gun shop that is very eclectic with a feel of steampunk meets mad max with a bit of class being put into it!

It is an actual real and working AK and when the clock is put into the magwell when you shoot it goes forward in time. It has bells and also lights that work on it and it is fully convertible too.some of the fixtures can be removed and others added on for different looks. it is a 7 color cerakote combination as well and it has real brass that has been melted and welded onto the rifle




Got a suggestion?
We are always looking to improve the listings in "Steampunk Daily". As you can imagine, its not a simple task to colate such a large listing of items. Whilst we have done our best to find title, description, artists/designers details, we are not perfect. If you have stumbled across this page, and happen to know the original URL, artists name / profile page, or any other information - please let us know below.


Other entries in this category: