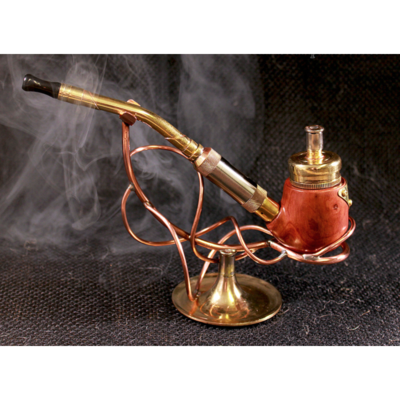 (click to view a larger version)

I've been wanting to do this for quite awhile now, but summers are just too busy. Now things are starting to slow a bit, I can get back to some fun projects. The Steam-e-Pipe is hand made from cherry wood, brass and copper, and a few vape parts. The battery is removable and rechargeable by unscrewing the bowl cover. The button is spring loaded and makes contact with the + terminal on the battery. The battery is just a standard 4.7 volt 18350. It will need a separate charger, but they are not too expensive. I picked one up for $15. It's a bit heavy at 4-6 oz, but not too bad.




Got a suggestion?
We are always looking to improve the listings in "Steampunk Daily". As you can imagine, its not a simple task to colate such a large listing of items. Whilst we have done our best to find title, description, artists/designers details, we are not perfect. If you have stumbled across this page, and happen to know the original URL, artists name / profile page, or any other information - please let us know below.


Other entries in this category: