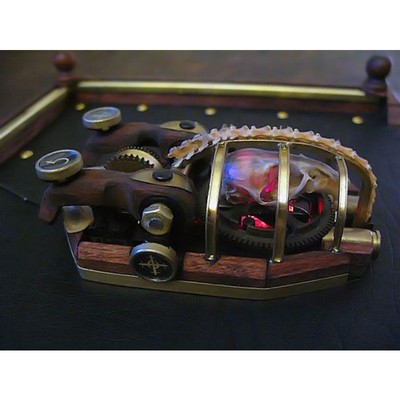 (click to view a larger version)

Le coté steampunk de ce mod de souris a été poussé très loin avec des objets de récupération pour le moins originaux. Ce mod est signé Daniel Pon.Les matériaux utilisés sont par exemple des touches de machine à écrire, un crâne de souris (lanimal ce coup-ci) ou encore des cartouches de fusil.

Le résultat est assez réussit et les fans de steampunk devrait apprécier cette souris même si elle est un peu effrayante avec ce crâne qui trône au milieu




Got a suggestion?
We are always looking to improve the listings in "Steampunk Daily". As you can imagine, its not a simple task to colate such a large listing of items. Whilst we have done our best to find title, description, artists/designers details, we are not perfect. If you have stumbled across this page, and happen to know the original URL, artists name / profile page, or any other information - please let us know below.


Other entries in this category: