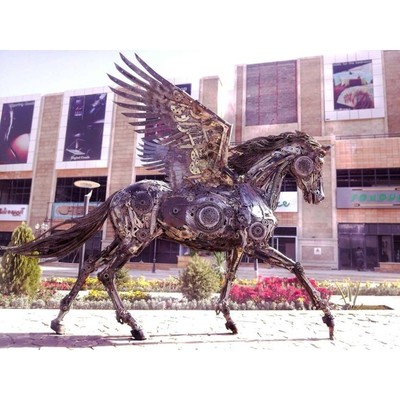 (click to view a larger version)

Hasan Novrozi, a talented sculptor trained in Iran, has created a wonderful collection of steampunk animals sculptures that are full of life and emotion despite being painstakingly assembled from thousands of metal tools, automotive components, and other pieces of scrap metal. In addition to his epic Pegasus statue, he has also created other creatures in a variety of styles, all of which are stunning! His more heavily-welded animal sculptures remind us of these magical animal sculptures by Ellen Jewett, while his steampunk pegasus reminds us of these life-like steampunk animal sculptures by Igor Verniy. Novrozi also sculpts with clay and other media, so check out his Facebook!




Got a suggestion?
We are always looking to improve the listings in "Steampunk Daily". As you can imagine, its not a simple task to colate such a large listing of items. Whilst we have done our best to find title, description, artists/designers details, we are not perfect. If you have stumbled across this page, and happen to know the original URL, artists name / profile page, or any other information - please let us know below.


Other entries in this category: