Steampunk Daily: Buildings: Miyazaki Steampunk Clock at NTV Shiodome, Tokyo.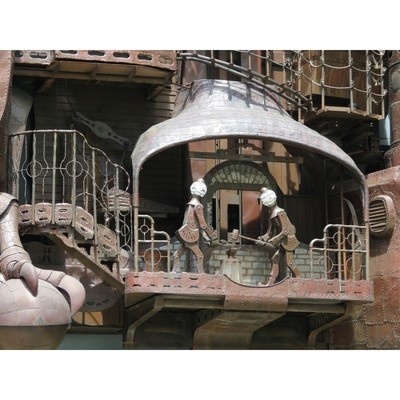 (click to view a larger version)

This steampunk themed clock designed by the famous Hayao Miyazaki of Studio Ghibli is the largest animated clock in the world. The clock was completed in December 2006 after a design period of over four years.

The enormous copper clock is 12 metres high, 18 metres wide, and has extensive animations timed to music including firing steam cannon, moving figures, and moving legs like Howls Moving Castle.

The clock was built by sculptor Shachimaru Kunio who also built the giant Laputa robot on the rooftop of the Ghibli museum. Miyazaki said that he wanted to make something that would be loved by future generations that would last beyond his animated characters.




Got a suggestion?
We are always looking to improve the listings in "Steampunk Daily". As you can imagine, its not a simple task to colate such a large listing of items. Whilst we have done our best to find title, description, artists/designers details, we are not perfect. If you have stumbled across this page, and happen to know the original URL, artists name / profile page, or any other information - please let us know below.


Other entries in this category: