Steampunk Daily: Weapons: Swarovski Lady Froggy wrist Gatling gun_02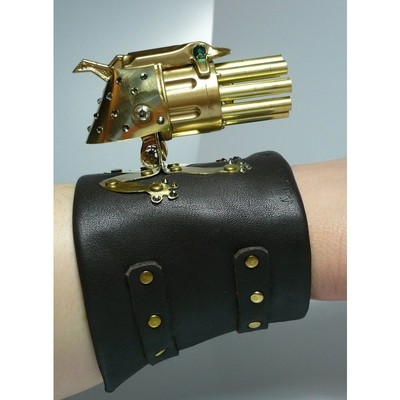 (click to view a larger version)

This shiny "LADY FROGGY" was made as an exclusive and much more delicate alteration to the already known and famous (male) Froggy wrist Gatling gun, which received a Daily Deviation on Deviantart and was featured in the book "Steampunk - kurz & geek".

This wrist Gatling gun is the perfect counterpart, fitting to grace any steamy Ladies wrist.
Beauty and the Beast, she is both!

Stunning in it's twinkling gold brass color and its sparkling genuine Swarovski gems, yet deadly with its eight barrels ready to deliever any non-gentleman-like behaving Joe into oblivion with a load of lead."


This unique handmade piece of art can be a perfect display piece in a cabinet, as well as a fully wearable accessoire for any Ladies Steampunk costume.

It's made from polished brass, plastic, metalizer FX laquer and 36 genuine Swarovski Strass black diamonds as well as 2 Swarovski Strass emeralds.
The wrist bracer is made from finest genuine leather which is as smooth and soft as the Ladies skin, that will wear it with no sewing seams on the edges at all as it is specially punch-glued.



Although it looks like a fully functional weapon, this is a NON-FUNCTIONING prop. However the barrels are freely turnable mounted.

It has a prod. number embossed into the leather and an owner's certificate with the specific no. will be provided as proof of authenticity.




Got a suggestion?
We are always looking to improve the listings in "Steampunk Daily". As you can imagine, its not a simple task to colate such a large listing of items. Whilst we have done our best to find title, description, artists/designers details, we are not perfect. If you have stumbled across this page, and happen to know the original URL, artists name / profile page, or any other information - please let us know below.


Other entries in this category: