Steampunk Daily: Weapons: Steampunk Gun Tutorial: How to Paint Your Own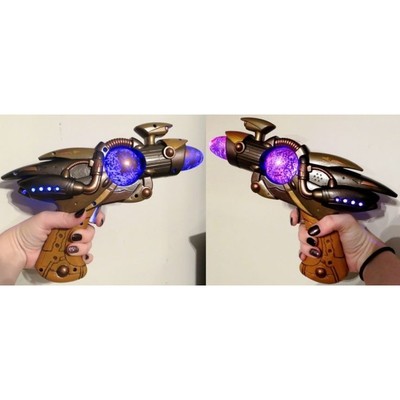 (click to view a larger version)

The first step to painting your steampunk gun is to choose a base color. For this step especially, I suggest that you find a clean, flat workspace to use. (I did most of this project in my bed while watching Netflix. There is definitely some paint on my sheets.) There are base acrylic paints available, or you can use a simple plain black or white. Due to the chance of spots showing through the layers of paint, I chose to use black as my base color.Once you choose your color, use a medium paintbrush (I used one with bristles about an inch across) to paint the entire exterior of the gun that color. Using a medium sized brush allows you to get the job done quickly, but also gives you more control over where the paint goes. Additionally, you will want to paint any interior areas of the gun that might show through when the gun is completely put back together. You can either paint these areas black, or paint them to match the color that area is on the guns exterior. I chose to paint the edges of the interior to match the exterior, just in case they show through at all.




Got a suggestion?
We are always looking to improve the listings in "Steampunk Daily". As you can imagine, its not a simple task to colate such a large listing of items. Whilst we have done our best to find title, description, artists/designers details, we are not perfect. If you have stumbled across this page, and happen to know the original URL, artists name / profile page, or any other information - please let us know below.


Other entries in this category: