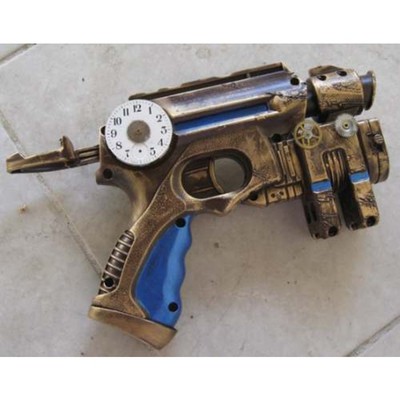 (click to view a larger version)

The Nerf Maverick gun gets meaner and is no longer plasticky, thanks to Aimeekitty (nickname, of course) here who has created amazing Steampunk Nerf Guns. We are sure these pictures pretty much seal it for her, yet we cant contain the excitement and the admiration that we have for these designs. There are three variations of these guns in fact. One of them is the clocked N-Strike Nite Finder EX-3 (the others arent named yet). The splash of blue in the handles, the trigger and in the barrel too perfectly complements the bronzed appearance, giving the gun an ethereal aura. We, for a few seconds, had forgotten this is the same gun that traditionally splashed paint.




Got a suggestion?
We are always looking to improve the listings in "Steampunk Daily". As you can imagine, its not a simple task to colate such a large listing of items. Whilst we have done our best to find title, description, artists/designers details, we are not perfect. If you have stumbled across this page, and happen to know the original URL, artists name / profile page, or any other information - please let us know below.


Other entries in this category: