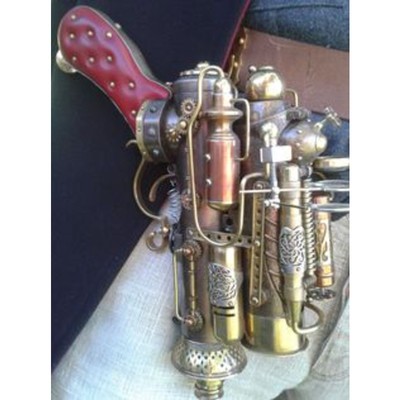 (click to view a larger version)

Last year was a good one for us, with lots of interesting events, and for the fact that I finished five projects! Yes, indeed, so please forgive me for feeling quite proud of myself for thatokay, thats enough, because my ambition this year is to finish more than five projects!
Already, this month, we have the Jaunt to Whisby Nature Reserve to look forward to, and two Lincoln COGS get-togethers at our new location, the lovely Craftea Cafe on Melville Street. (For the uninitiated, COGS stands for Crafters Of Great Splendour!)
This weekend will see us participating in the noble art of Tea Duelling at the uni, with that splendid chap, Dr Porridge as Tiffin Master, ably assisted by Robert. So, what is a lady to wear for such shenanigans?
At the moment, a fair bit of our steampunk wardrobe is packed away while we attempt to transform our library (which ended up as the Trebus Room!) into a sewing/crafting roombut it just feels like a big game of musical junkwithout the music! We will get there eventually, fingers crossed, then there will be no stopping me!
Next month is a friends steampunk birthday party, March is the annual jaunt to the National Railway Museum in York, April we will return to Whitby, and August sees the return of a most splendid Weekend at the Asylum. Soon the diary will be filling up with more interesting events, COGS meets, and punknics as the weather improves. In fact, I cant wait for what this year has to offer, because whatever it isit will be trulysplendid!




Got a suggestion?
We are always looking to improve the listings in "Steampunk Daily". As you can imagine, its not a simple task to colate such a large listing of items. Whilst we have done our best to find title, description, artists/designers details, we are not perfect. If you have stumbled across this page, and happen to know the original URL, artists name / profile page, or any other information - please let us know below.


Other entries in this category: