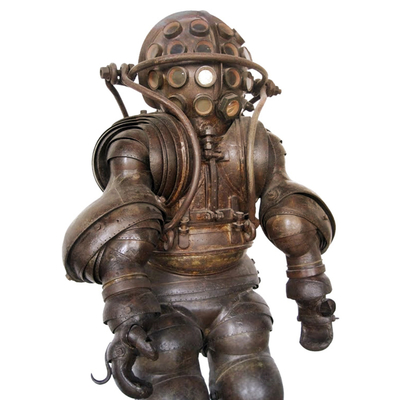 (click to view a larger version)

Long before we had spacesuits, we had diving suits. The ocean was the first hostile environment that we sent people into, completely covered with protective gear. And the suits that people created with late-18th century or 19th century technology are astonishing to behold.

If anything had that #steampunk look, it was this suit. I can't imagine any sort of mobility in this outfit, but at least steps were taken in a new chapter of exploration. Creepy and cool, all at the same time!
Got a suggestion?
We are always looking to improve the listings in "Steampunk Daily". As you can imagine, its not a simple task to colate such a large listing of items. Whilst we have done our best to find title, description, artists/designers details, we are not perfect. If you have stumbled across this page, and happen to know the original URL, artists name / profile page, or any other information - please let us know below.


Other entries in this category: