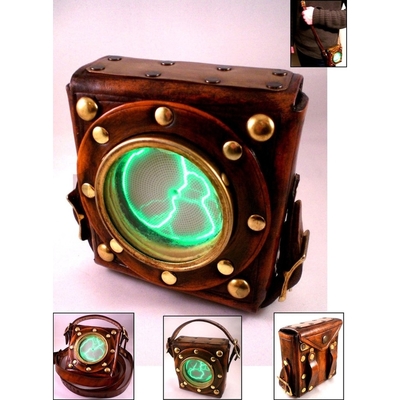 (click to view a larger version)

Take my money now! This is one of those "freakin' cool" DeviantArt items that would be a blast to have as you walked around some big city or world capital. Shock n' awe, baby!

The 8th in the series of Plasma Pouches. Handmade tooled and shaped from one piece of Veg tanned Leather (besides the Portal Frame and straps). This pouch can be worn 2 different ways or carried in hand with the included hand strap!

Strap it over your shoulder with the shoulder strap attachment! Attach it to your belt with the added belt loops on the back! A great little pouch for any attire! The front of the pouch is covered with glass. So if one likes, the plasma disk can be removed. Once removed you can store your own little goodies!

Skinz-N-Hydez says "Its a plasma Disk inside a leather pouch I made :) It can be turned on and off, it also has a sound sensitive option.




Got a suggestion?
We are always looking to improve the listings in "Steampunk Daily". As you can imagine, its not a simple task to colate such a large listing of items. Whilst we have done our best to find title, description, artists/designers details, we are not perfect. If you have stumbled across this page, and happen to know the original URL, artists name / profile page, or any other information - please let us know below.


Other entries in this category: