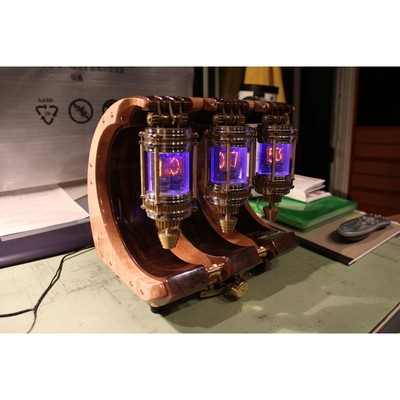 (click to view a larger version)

Hello All
here is my first Instructable, Its a beautiful Nixie Lantern clock, A little steam punk and a bit Victorian, made up of mostly of found components
I tend to communicate better when there is something to show so please look at the images and tags, they sometimes will hold more info than the body of text.
Here is a parts list....
-large slab of walnut 2" thick by 36" long and 12" wide
-large slab of maple 1.5" thick by 30" long and 12" wide, both found on eBay
-2" diameter clear acrylic tubing .125" wall about 12" long, any plastic store and eBay.
-an assortment of gears and gauge faces / bezels, knobs and metal bits,
- A nixie kit, I highly recommend a seller on ebay who goes under the name...petes_kits, here is a link... petes_kits, http://shop.ebay.com/petes_kits/m.html?_trksid=p4340.l2562
he has to my knowledge the only nixie prototypers board out there that gives the experimenter options of screw terminals, solder pads and designated nixie patterned mounts for leads, not to mention he always answers and is there to help you out.
-you will need some basic electronic skills
-a multimeter with a continuity function (prefer an audible function).
-3 Blue leds
-A mill and lathe for custom parts, machining skills are very helpful
-lots of brass and aluminum
-all sorts of hardware and locktite
-12 conductor 28AWG ribbon cable
-9VAC transformer, wall wart
-assortment of gears, shafts and collars
and finally... lots of imagination.....




Got a suggestion?
We are always looking to improve the listings in "Steampunk Daily". As you can imagine, its not a simple task to colate such a large listing of items. Whilst we have done our best to find title, description, artists/designers details, we are not perfect. If you have stumbled across this page, and happen to know the original URL, artists name / profile page, or any other information - please let us know below.


Other entries in this category: