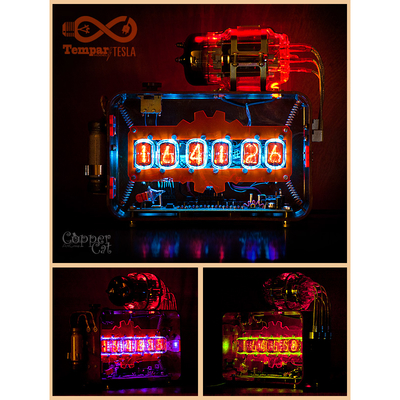 (click to view a larger version)

Company "Copper Cat Art Group" presents new design-product in the field
of Steampunk and Teslapunk: multitasking electronic
chronograph-alarm-thermometer Tempar Tesla with RGB-lighting!

Tempar Tesla is our tribute of respect to the memory of a great man Nikolo Tesla. 160th anniversary of his birthday all progressive humankind will celebrate 2016. And, of course, we could not be just simple observers!

By means of peculiarities of construction and original design we tried to reconstitute some of the spirit of invention and innovation of Tesla in our device, to reconstruct atmosphere of mystery and delight of the person untisipating Great discoveries.

Multitasking electronic chronograph-alarm-thermometer Tempar Tesla is an object of art and exists as a SINGLE copy. Assembling of the devices of the "Tempar" series is manual and goes through various stages of reassuring of quality and workability.




Got a suggestion?
We are always looking to improve the listings in "Steampunk Daily". As you can imagine, its not a simple task to colate such a large listing of items. Whilst we have done our best to find title, description, artists/designers details, we are not perfect. If you have stumbled across this page, and happen to know the original URL, artists name / profile page, or any other information - please let us know below.


Other entries in this category: