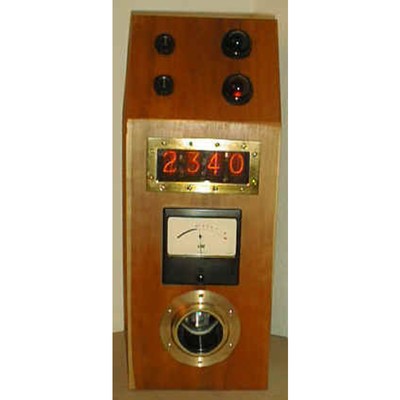 (click to view a larger version)

The nixies used are Siemens ZM1040, from an old milling machine. The clock is connected to the Frankfurt Radio Time Signal. Behind the round lens you can see the "caesium source" lighting up bluish.. Because there was plenty memory available we can show: hours and minutes. seconds, year, software version, software issue date, time signal decoding And there was still memory left so we can also show pi up to 18000 decimals. You choose with the bakelite selector switches. Old voltmeter indicates kW and shows seconds... The wood is cherry wood.




Got a suggestion?
We are always looking to improve the listings in "Steampunk Daily". As you can imagine, its not a simple task to colate such a large listing of items. Whilst we have done our best to find title, description, artists/designers details, we are not perfect. If you have stumbled across this page, and happen to know the original URL, artists name / profile page, or any other information - please let us know below.


Other entries in this category: