Steampunk Daily: Time pieces: Wooden Gear Clock Plans from Hawaii by Clayton Boyer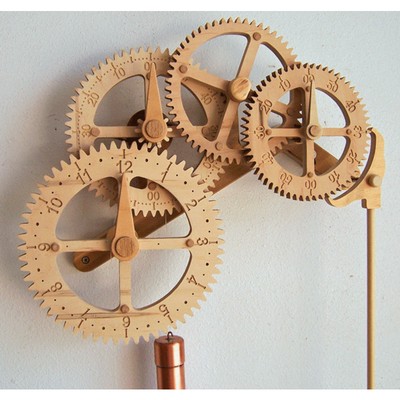 (click to view a larger version)

Genesis is the simplest clockworks I have ever designed, and is probably the world's easiest clockworks to make. It is the perfect plan for the beginner wooden clockmaker. What makes it so much easier to build? First, there is no special weight pulley required, and yet the Genesis gets a full days run time on a single keyless wind. This design also saves cutting out a special set of motion train wheels for the hour hand (because these hands do not move!). Also the pendulum-crutch adjustment system is built into the frame requiring fewer parts to be cut out. Step-by-step instructions, with pictures, lead the builder through each part of the build.

The Genesis plan is available both as paper plans or in dxf format for builders who would like to cut their Genesis using CNC or Laser.




Got a suggestion?
We are always looking to improve the listings in "Steampunk Daily". As you can imagine, its not a simple task to colate such a large listing of items. Whilst we have done our best to find title, description, artists/designers details, we are not perfect. If you have stumbled across this page, and happen to know the original URL, artists name / profile page, or any other information - please let us know below.


Other entries in this category: