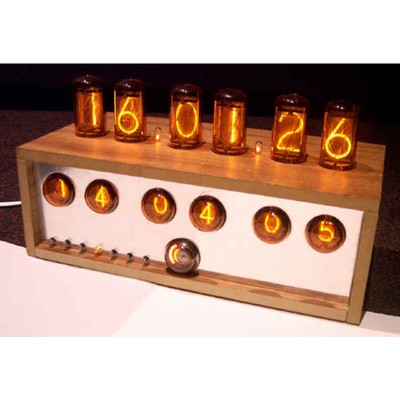 (click to view a larger version)

I decided to build my own Nixie clock. It has 12 nixie tubes and one dekatron. Since I already had experience with the Intel 8048 microcontroller from the Philips Videopac game computer (from 1980), I've used this microcontroller for my clock. To display the time, I've used the beautiful ZM 1040 tubes.
Features: subtle tick sound every second, cuckoo sound every hour, two buttons at the back to set the clock, a switch at the back to turn off the high voltage, dekatron is used during setting to indicate which digits are being set, nixie tube test mode, 1 Hz and 10 Hz pulse outputs. Automatic features: fully automatic switch to and from daylight saving time, automatic adjustment of the number of days of February during a leap year, automatic brightness control with photo-diode (manual setting also possible), automatic calculation of the day of the week (7 neon bulbs), automatic switch off of the sound effects during the night.




Got a suggestion?
We are always looking to improve the listings in "Steampunk Daily". As you can imagine, its not a simple task to colate such a large listing of items. Whilst we have done our best to find title, description, artists/designers details, we are not perfect. If you have stumbled across this page, and happen to know the original URL, artists name / profile page, or any other information - please let us know below.


Other entries in this category: